Halong Bay owns a complex of limestone islands located within the Gulf of Tonkin, in the city of Halong, Quang Ninh province, which is about 170km from Hanoi. Halong Bay is surrounded by Bai Tu Long Bay in the Northeast, Cat Ba Archipelago and Lan Ha Bay in the South and the East. To plan your trip wisely and wondrously, check out this guide to get all the must-have information for the upcoming journey to "the land of descending dragon". Recognized by UNESCO twice as a World Heritage Site, Halong Bay is among top-notch destinations in Vietnam for domestic and foreign tourists with a fantastic blend of pristine natural beauty and effervescent city vibe.
Weather in Halong bay – when should we visit Halong bay ?
Similar to other Northern cities of Vietnam, Halong shares the tropical climate with high temperature from late June until September with occasional storms and typhoons, and strong monsoon during the winter. These unpleasant weather conditions with a high level of humidity and rainfall will limit the warmth from sunlight as well as visibility over the sea. Therefore, it is advisable to avoid traveling during these periods.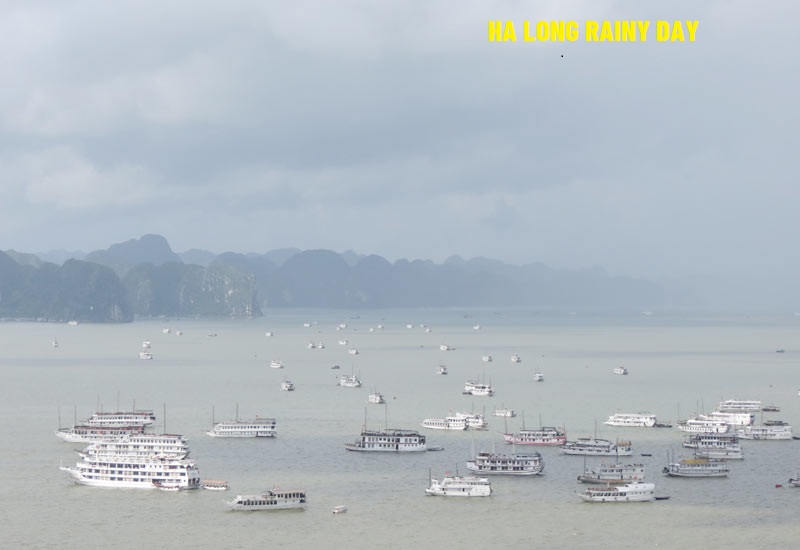 However, in December and January, Halong Bay is mostly packed with foreign tourists because it is Christmas and New Year holiday, and the local weather is not too sweaty as well. Other than swimming, visitors still can enjoy several activities and take a short journey to explore the magnificent caves within the bay.
The best season to visit Halong Bay is during the late spring (March and April) and early autumn (October). Halong Bay's climate during the late spring features slightly dazzling sunshine and gentle breeze, with an average temperature of 25°C. This is also the season of flowers blossoms and spring festivals that provides not only a refreshing atmosphere of surrounding nature but also excitement of exploring local cultures. Meanwhile, the autumn precipitation is expected to be low and the water will calm down after stormy season, making it a peak season for cruise traveling.
Despite the extreme heat in summertime (May – July), domestic travellers enjoy the crystal blue sea and clear sky, which provide the most desirable view over the offshore scenery. You may find the beaches are fulfilled with people swimming, kayaking and soaking in other water activities. One reminder when staying in Halong during summer is keeping yourself away from outdoor activities at noon time, as the sun may cause unexpected heatstroke or sunburn.
Major Attractions
Sung Sot Cave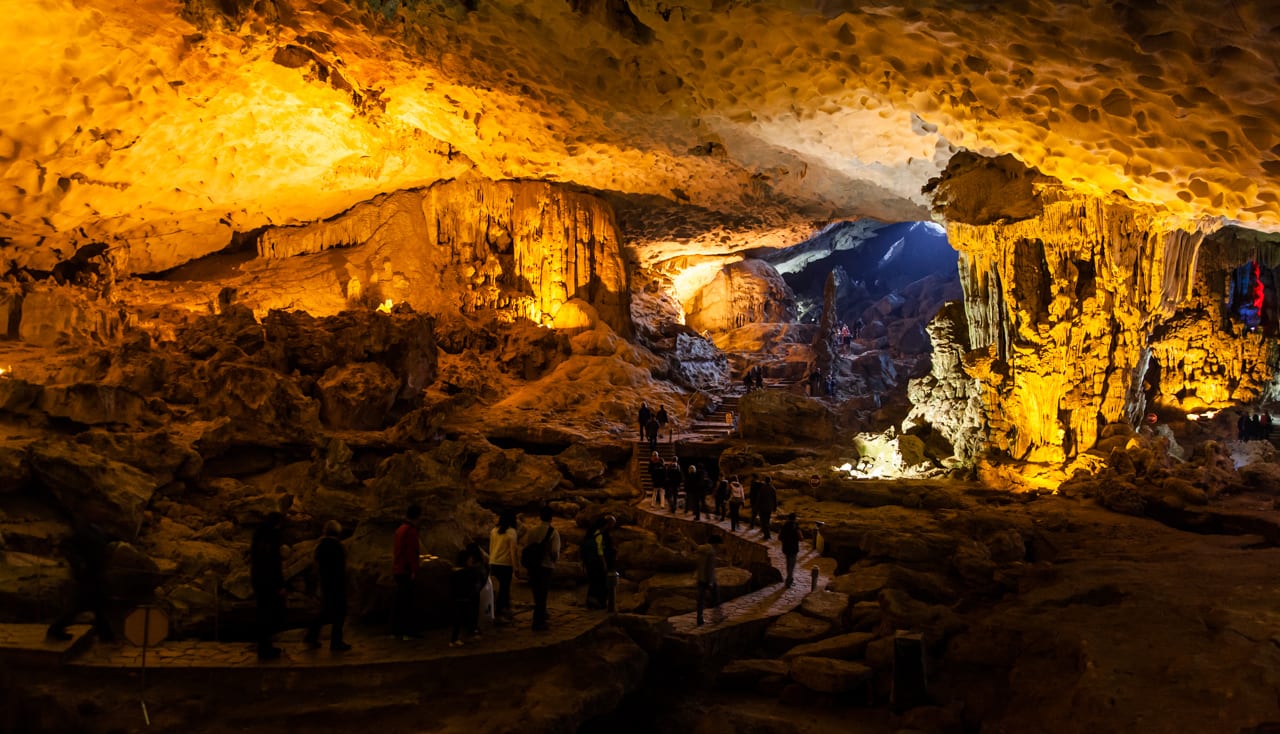 Sung Sot Cave is the largest and most beautiful cave in this heritage's center. The cave gathers a tremendous system of stalactites and stalagmites in various shapes, presenting the superlative creation of mother nature. The trail to Sung Sot Cave is through a forest canopy with rocky steps, making an ultimate excitement when climbing to the top. This place welcomes thousands of visitors every day as a must-visit on your Halong Bay bucket list.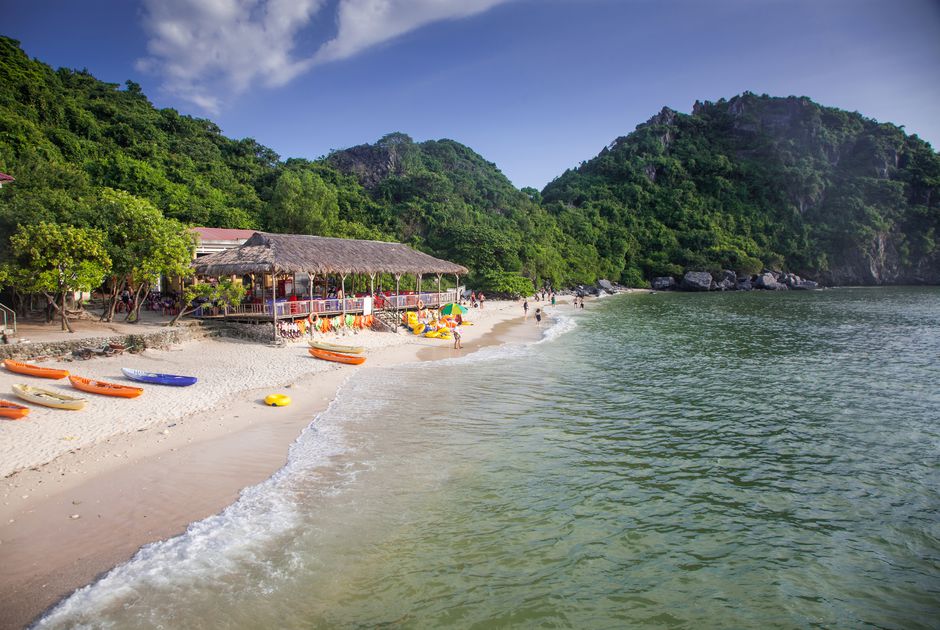 Titov Island
Having the charming natural scenery with a marvelous mountain and dazzling beach, Titov Island is a famous stop that you should not miss when discovering Halong Bay. The island is embraced by a crescent-moon shaped beach on one side and a steep mountain slope on the other side. Visitors can go to the beach to enjoy the calm water and white pale sand or take the challenge of over 400 steps to the mountain deck to observe the 360° view around the island.
Cua Van Fishing Villages
For many years, Cua Van fishing village has been both a residence of local fishermen and a tourist's favorite destination. Coming to Cua Van fishing village, you can not only enjoy the tranquil atmosphere of unique floating houses, but also learn more about the culture and daily life of fishermen and women through different activities such as rowing boats, drop fishing, or visiting fish farms in the middle of the sea.
Tuan Chau Island
Where To Stay
Renowned as one of the most popular destinations in Southeast Asia, Halong Bay offers a wide range of accommodation, available from convenient homestays to luxury 5-star hotels that will undoubtedly match your preference and budget.
If you're into the crowd and do not want to miss the city's hectic nightlife, staying at Halong city centre or Cat Ba Island is an excellent choice, which enables tourists to explore the city night market and soak in a sumptuous array of fresh seafood and local specialties.
Getting yourself surrounded by the tranquility and beauty of natural landscape? Pick a place among small islands within the bay such as Soi Sim or Quan Lan Island. Contrary to the mainland, these islands are hidden gems, remaining their primitive charm of evergreen mountains and crystal blue sea. But keep in mind that you won't find luxury accommodations in such areas due to the local efforts to preserve the surrounding nature.
The best option for leisure travelers who seek for luxury experience is a cruise tour. By spending most of your time on the sea, it is eye-opening to observe the panoramic view of sunrise and sunset from the deck while enjoying the delicate cuisine and other high-qualified services. Tourists won't be limited in the room of cruise itself, but pop in fantastic activities on and off the boat, which keep you busy throughout the trip.
How To Get There
Traveling by land is the most common way if you are moving from other Northern cities and regions. In case of flying from the South or from other countries, Noi Bai International Airport (Hanoi) and Van Don International Airport (Quang Ninh) are the most convenient arrivals.
To rent car from Noi Bai airport to Halong bay and come back: Contact us sales@hanoiariacentralhotel.com
From these transit points, visitors can get to Halong Bay by coach, shuttle bus or private car in about 2.5 hours. The price varies based on different service providers and types of vehicle, with coach as the cheapest option ($5 – $10) and private car is most costly ($65 – $100).
All of these transportation can be booked through a local travel agent with a packed guide and details. Also for coach tickets, you can buy directly at coach stations or via online platforms such as vexere.com or easybooking.com, input your information to request for available results. Coach is a very competitive means of transport, but if you're a foreigner having first time in Vietnam, prepare yourself a bit of local language or stick with Google Translate as the coach staff might not speak English, unfortunately.
Other wise, if you start your trip from Sai Gon, Da Nang to Ha long bay that you do not want to pass Hanoi you can take direct flight from Da Nang airport to Van Don airport or from Ho Chi Minh airport to Van Don airport, by this way, just take taxi from Van don to Halong bay with cost about 50$/ private car.
Cruise in Halong bay.
There are so many cruise in Halong bay which is sapared to different cruise quality level and price. Some 5 star cruise in Halong bay such: Monchery cruise, Orchid cruise, Athena cruise …. These cruises serve 2 days 1 night or 3 days 2 nights on boat.
You also can book 1 day boat in Halong bay, List of 1 day boat in Halong bay:
Alova premium boat
Dragon King Boat
Hana premium boat
Wonder bay boat
Flydragon boat
Ha long excursion boat
L'Azalee Private Cruise
---